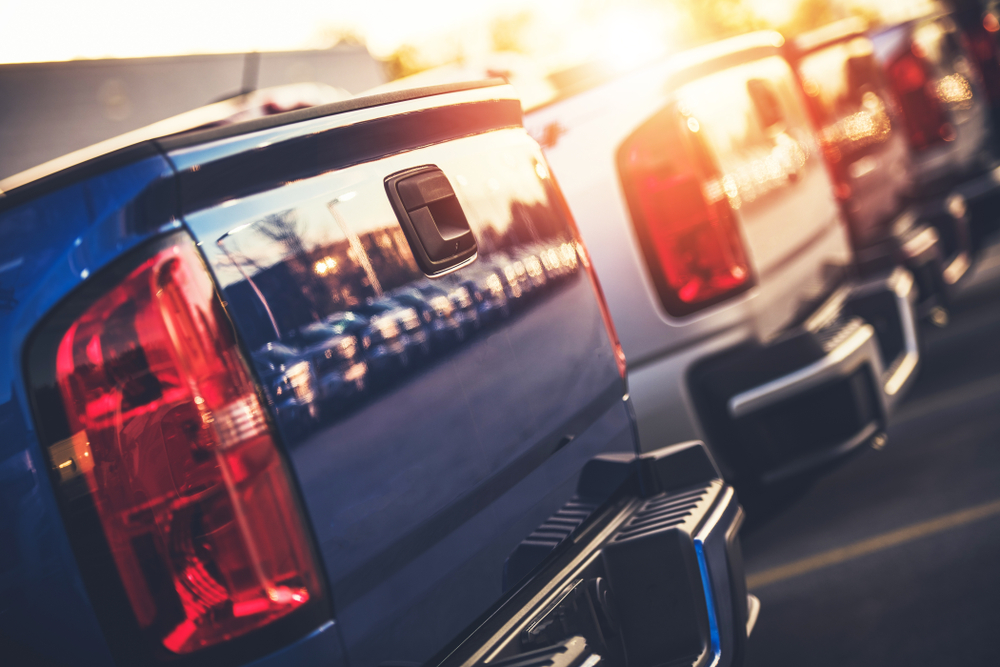 When it comes to versatility on the road, there's no better option than a trusty pick-up truck. They're like the Swiss Army Knife of vehicles – a perfect option for work, ferrying equipment, or even taking a family road trip.
The world of pick-up trucks is constantly evolving in terms of efficiency, design, and technology. In 2023, the UK market is filled with seemingly endless pick-up options. So, our experts at First Step Vehicle Solutions have done the homework to help you figure out which ones are best. Let's get into it…
Toyota Hilux
Ford Ranger
Volkswagen Amarok
SsangYong Musso
Isuzu D-Max
Maxus T90 EV
Toyota Hilux
When it comes to powerful engine options, impressive towing capacity, and a reputation for durability, the Toyota Hilux is a standout choice. A stalwart of the pick-up community, the Hilux stands out with its big engine options that provide a mix of strength and efficiency.
Take, for example, the Toyota Hilux Invincible X – it has permanent 4-wheel drive, a maximum payload of just over 1 tonne, and a 2.8-tonne towing capacity. If that doesn't shout power, we don't know what does.
One of the Toyota Hilux's greatest selling points is that it comes with a generous 10-year warranty – a testimony to its reliability. And, while the cabin may not be dripping in luxury, it is kitted out with a full range of helpful features and tech, like Vehicle Stability Control and folding door mirrors with temperature sensors.
Ford Ranger
Holding a strong position as one of the best-selling pick-up trucks in the UK, the Ranger is often praised for its blend of features, capabilities, and reliability. With an impressive towing capacity of 3.5 tonnes, alongside a wading depth of 800mm, the Ford Ranger can handle any type of terrain.
Most versions have a one tonne payload and so qualify as a light commercial vehicle. It's not just a workhorse though, as it now comes with a sense of style and a cabin that's kitted out for comfort, quality, and space.
The Ranger can also come with various engine options, each catered to offer a balance between power and fuel efficiency. However, when it comes to the warranty, it falls a touch behind its rivals, giving you only three years or 60,000 miles from new – whichever comes first.
Volkswagen Amarok
The Volkswagen Amarok sets a benchmark when it comes to blending comfort, luxury, and sheer power. With a classy yet practical design, the Amarok has a luxurious interior, making it a great option for switching between work and leisure when you're off the clock.
Since they are made in the same factory, the Amarok has the same engine options as the Ford Ranger. At the top of this range is a 3.0-litre V6 diesel, churning out 237bhp, which also comes with the automatic transmission. These powerful V6 engines make driving smooth and means the Amarok can easily handle its 3.5 tonne towing capacity.
However, unlike the Hilux, the Amarok is only available in a double-cab bodystyle, with four doors and rear seats. Not only does this mean you have less choice, but it also makes the starting price higher than its rivals'.
SsangYong Musso
The SsangYong Musso seamlessly combines utilitarian appeal and modern features. With prices starting at around £30,000, it is more affordable than other pick-ups on the market. Add to this the peace of mind that comes with a 7-year warranty and it's a choice that's hard to refuse.
It can tow an impressive 3.5 tonnes and has a payload of roughly 1 tonne, but it is only available with a single engine option – a 2.2-litre four-cylinder turbocharged diesel unit – so like the Amarok, you have less choice.
The cabin is spacious, thanks to the double-cab body style that gives passengers plenty of space, though many feel that some of the interior materials are less premium when compared to competition.
Isuzu D-Max
In the world of pick-up trucks, the Isuzu D-Max confidently stands its ground, offering a blend of performance, practicality, and efficiency. One of its major highlights is the economical advantage it offers. With notably low running costs and the assurance of a five-year warranty, this truck proves to be a wallet-friendly option for many.
An impressive feat of this truck is its 3.5-tonne towing capacity, making it a go-to choice for heavy-duty tasks. However, where the D-Max truly shines is in its off-road capability, confidently traversing challenging terrains. Pair that with a stellar five-star safety rating, and you've got a truck that's both rugged and safe.
Pick-up your truck from First Step Vehicle Solutions
It's no small task finding the right vehicle to suit your needs, especially with the multitude of options available. Here at First Step Vehicle Solutions, we pride ourselves on our expert vehicle knowledge, ensuring you drive away with the best match for your needs.
Worried about the cost? We've got the middle-ground you need. Instead of cashing out on a big purchase, go for a long-term lease with us. It's the perfect way to enjoy the perks of a pick-up whilst keeping some flexibility with your vehicle choices.
Our range of vans is one of the biggest in the UK and thanks to our quick and simple process, you could be hitting the road in your pick-up in as little as 7 days. Check out your options, or give us a call today to get started.