We want to make every step of our customer's vehicle renting process as easy as possible. We know that repairs that are costly can feel like a pain, so we've laid out our pricing as clearly as possible to streamline the process and make it a little more convenient to deal with.
Vehicle maintenance can be expensive. Even with a good fuel economy, the combination of road tax, car insurance, and running costs, means that finances can add up quickly. With fuel costs as high as they are right now, we understood that overall spending can feel overwhelming for customers. Ensuring van security through repairing damages when they occur means you can save money down the road and reduce your total repair cost.
Whether your problem is with depreciation in the appearance and bodywork of the car, such as dents, rust, and chips in paintwork, or with general car maintenance and servicing, the cost list below provides you with all the information you need to keep your new vehicles in pristine condition.
Caring for your vehicles, vans, and cars through service or repair makes your work process as efficient as possible.
If you require repairs, it is worth checking through our van repair cost list below. This way, hopefully, no price or total cost comes as a surprise. If you have any other queries or questions, or require expert advice, do not hesitate to contact us.
Paint Only
REAR LOAD DOORS
£197.00 + VAT
1/4 PANELS + £15 Decal Replacement
£197.00 + VAT
LOCAL BUMPER
£73.50 + VAT
INNER LOAD AREA
£137.00 + VAT
REPAIR & PAINT
REAR LOAD DOORS
£223.50 + VAT
1/4 PANELS + £15 Decal Replacement
£223.50 + VAT
LOCAL BUMPER
£73.50 + VAT
INNER LOAD AREA
£142.00 + VAT
ADDITIONAL
BUMPER RE-TEXTURE
£73.50 + VAT
MIRRORS PAINTED
£47.50 + VAT
MIRROR RE-TEXTURE
£31.50 + VAT
POLISHED ALLOY
£79.00 + VAT
PAINTED ALLOY
£42.00 + VAT
KEY REPLACEMENT
£250.00 + VAT
PLY PER PANEL
£31.50 + VAT
DE-DECAL/POLISH GLUE RESIDUE
£47.50 + VAT
SEAT REPAIRS
£31.50 + VAT
PLASTIC TRIM/CARPET REPAIRS
£31.50 + VAT
SCREEN REPAIR
£31.50 + VAT
REMOVAL OF ROOF BARS/TOW BARS/NON ORIGINAL EQUIP
£30.00 + VAT
MISSED SERVICE PENALTY
£315.00 + VAT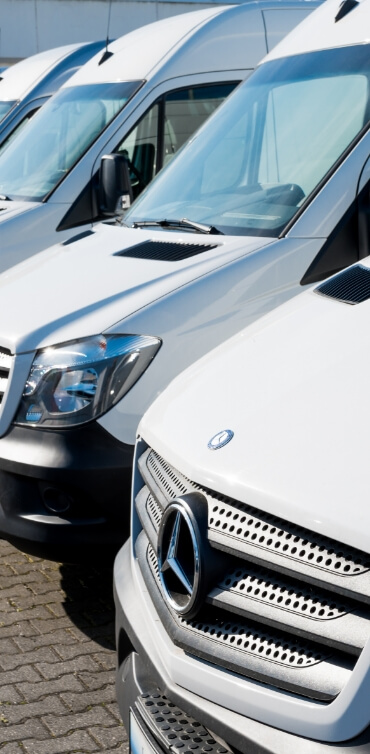 Get started with First Steps
Vehicle Solutions
Contact form 1
"*" indicates required fields