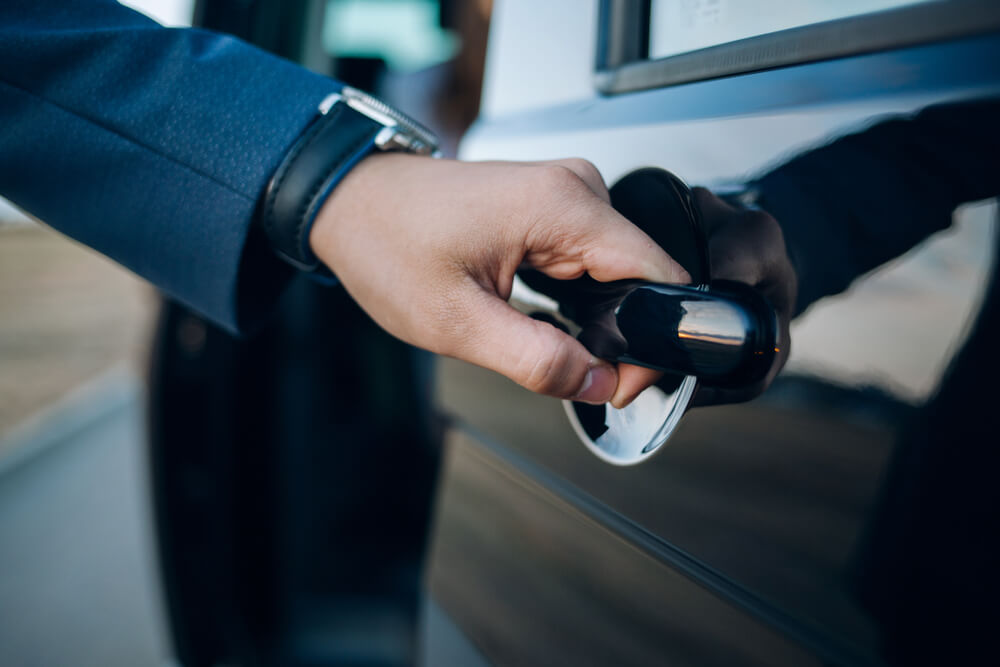 Navigating the world of van leasing can sometimes feel like charting unknown territory. Here at First Step Vehicle Solutions, we have a full range of vans for you to choose from. But when it comes to dependable workhorses, two names often rise to the top of the list:
The Ford Transit DCIV Kombi and the VW Transporter Kombi.
But which one is best for you? Well, you've come to the right place – we are experts in everything van-related and have put together this handy comparison. So, whether you need to get your work crew to site or a bunch of kit to your next project, you'll have all the information you need to make the best choice for you.
Ford Transit DCIV Kombi
VW Transporter Kombi
Seating
Load space
Technology
Price
Ford Transit DCIV Kombi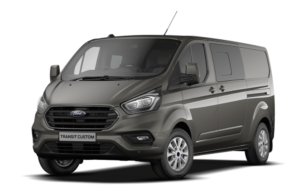 Since its inception, the Ford Transit series has been synonymous with dependability and versatility. The DCIV Kombi proudly upholds this tradition. Designed with both the driver and passenger in mind, it effortlessly blends the robustness of a cargo van with the comfort of a passenger vehicle.
With ample space, advanced safety features, and Ford's renowned engineering, the Transit DCIV Kombi doesn't just cater to business needs; it anticipates them. For those in search of a reliable companion for both work and leisure, the Ford Transit DCIV Kombi makes a compelling case.
VW Transporter Kombi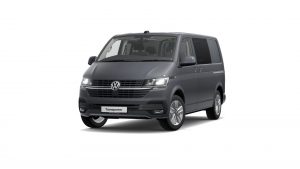 For many, the Volkswagen name is synonymous with innovation and craftsmanship, and the VW Transporter Kombi is no exception. This van beautifully merges the precision of German engineering with the practical needs of everyday use.
Offering generous space, cutting-edge technology, and a driving experience that's both smooth and powerful, the VW Transporter Kombi beckons to those who demand excellence in every aspect of their drive.
Riding in Comfort: The Kombi Seating Showdown
In the world of kombi vans, it's not just about the goods you can transport but also about the people you bring along for the ride. The seating options, their comfort, adjustability, and layout can make all the difference, especially on those longer journeys.
With room to comfortably accommodate up to six individuals, the VW Transporter Kombi has a flexible seating space. Choose from either a single or double seat in the front, coupled with detachable rear seats for an additional three passengers. Each seat is equipped with 3-point seatbelts and headrests that can be adjusted in height.
When it comes to the interiors, durability is key, which is why this model is kitted out with hard-wearing upholstery, designed to withstand the wear and tear that comes with heavy, daily use. As an added bonus, the sound-absorbing rubber flooring makes journeys quieter and is easy-to-clean.
When it comes to the Ford Transit DCIV Kombi, the front seats are specifically designed for your comfort. This includes thicker fabrics, improved seat contours and finer yet more durable trims for better support.
As for the seat layout, the second and third rows are flexible. This means you can adjust the set-up to fit as many as 8 passengers, or give yourself some extra loading space to meet your business needs.
Haul It All: Comparing Load Space
When it comes to selecting the perfect van for your needs, one of the most important factors to consider is the load space. After all, a van's primary role is often to transport, be it cargo, tools, or equipment.
The VW Transporter Kombi's size varies between 3.8m and 6.5m and has a load compartment capable of holding up to 9.3 cubic metres, depending on the setup you choose. Similarly, the load space for the Ford Transit DCIV Kombi varies based on the layout, with a maximum overall length of 5.3m and 2.5 cubic metres of load space.
Both models come with multiple options for roof heights, if you need extra head space, and wheelbase lengths, that give you more storage space in the back.
High-Tech Rides: Smart Features For You
In today's fast-evolving automotive landscape, it's not just about how a vehicle drives, but the technology that drives it. Unsurprisingly, both of these vans are packed with intuitive, advanced features that not only enhance the driving experience but also prioritise safety and efficiency.
Let's start with the VW Transporter Kombi's driver assistance features. From Front Assist tech to City Emergency braking, this model can keep you safe on urban streets and long motorways. It doesn't end there though, as the Transporter Kombi also has:
Crosswind Assist
Lane Assist
Park Assist
Side Protection
Trailer Assist
Adaptive Cruise Control
The Ford Transit DCIV Kombi offers some of the same amazing features, such as Active Park Assist, advanced Lane-Keeping Alert systems and Geofencing technology that helps to improve local air quality.
Protecting your Pocket: Breaking Down the Cost
Let's be honest; when choosing a van, the price tag matters. It's all about making sure you're getting the best deal for your hard-earned money.
With prices for the Ford Transit DCIV Kombi starting at around £30,000, and the VW Transporter Kombi coming in at just shy of £38,000, the reality is these vans will set you back a bit if you buy them new.
Now that's not to say they aren't worth the money – if you're looking for a reliable vehicle, built with expert engineering, clever technology and flexible features, these are some of the best bets.
Get your next van from First Step Vehicle Solutions
Not sure that buying a new van is your best option? Look no further – at First Step Vehicle Solutions, we have a full range of van lease deals. Every vehicle is put through extensive checks so you can be sure you're getting the best second-hand vehicles at the best price.
And, if you're not ready to own a van outright, we even offer 12-month hire contracts for vans. We've got you covered for every timeline and budget. Just get in touch with our teams today and you could be walking away with your keys tomorrow.