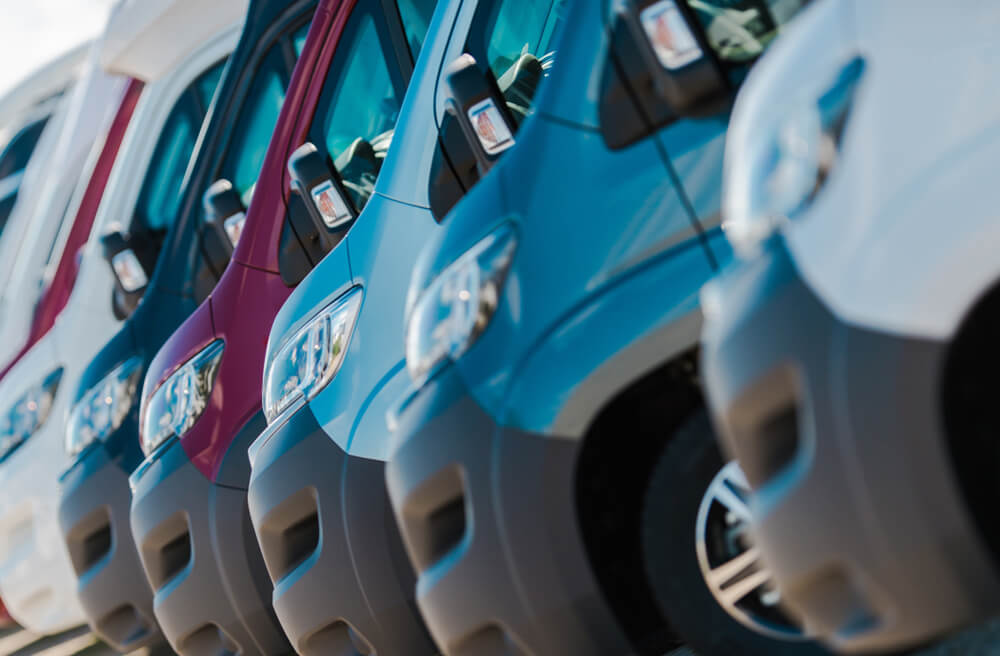 When it comes to expanding your business or simply adding a reliable vehicle to your fleet, the decision to buy or lease a van can be a tough one. You want to make the best choice that suits your needs, budget, and long-term goals.
Thankfully, you're in the right place. When it comes to vans, we know our stuff – from hires to outright sales, we've got a host of experience that can help you make the right choice.
In this blog, we'll delve into the differences between van leasing and purchasing, weigh the advantages and disadvantages of each option and address common concerns.
What's the difference between leasing and purchasing a van?
What are the pros and cons of van leasing?
What are the pros and cons of buying a van?
Can you lease a van with bad credit?
How much does van leasing cost?
Who can lease a van?
What maintenance costs are included with van leasing?
What's the difference between leasing and purchasing a van?
Van leasing is a financing option that allows you to use a van for an agreed-upon period of time while making regular payments to the leasing company. When you purchase a van you can either pay up front or use a financing plan that lets you spread the cost. Unlike purchasing, where you own the vehicle outright, leasing provides you with the flexibility to use the van without the burdens of ownership.
What are the pros and cons of van leasing?
The advantages of leasing a van
Lower Initial Costs: Van leasing generally requires a smaller upfront payment compared to purchasing, freeing up your capital for other business expenses.
Fixed Monthly Payments: With leasing, you know exactly what your monthly costs will be, making it easier to budget and plan for your business's financial needs.
Access to Newer Models: Leasing allows you to drive the latest van models with advanced features, providing a professional image for your business.
The disadvantages of leasing a van
Mileage Restrictions: Leasing contracts typically come with mileage restrictions, and exceeding the agreed-upon limit can result in additional fees.
No Ownership: Since you don't own the van, you won't be able to customise it to your liking, and you must return it in good condition at the end of the lease term. If you hand back the van with damages, such as scratches or dents, you will usually be charged for this.
Long-term Cost: While leasing may have lower upfront costs, over an extended period, the cumulative cost of multiple leases may exceed the cost of buying a van outright.
What are the pros and cons of buying a van?
The advantages of purchasing a van
Ownership: Buying a van gives you complete ownership, allowing you to customise it and use it as you see fit.
Long-term Investment: Purchasing a van can be seen as a long-term investment, as you can use it for as long as you need without a future return date.
No Mileage Restrictions: Unlike leasing, owning a van means you don't have to worry about mileage restrictions, giving you the freedom to drive as much as you need.
The disadvantages of purchasing a van
Higher Upfront Costs: Buying a van typically requires a significant upfront payment, making it a more substantial initial cost compared to leasing.
Depreciation: Over time, the value of your van will depreciate, which can impact its resale value should you decide to sell it in the future.
Maintenance and Repairs: As the owner, you are responsible for all maintenance and repair costs, which can add up over time, especially for older vehicles.
Can you lease a van with bad credit?
Leasing a van with bad credit can be challenging, but it's not impossible. Some leasing companies offer options specifically tailored for people or businesses with less-than-perfect credit.
Additionally, it is possible there will be higher interest rates or additional security deposits. By working closely with a leasing professional, you can explore alternative solutions and find a leasing arrangement that suits your needs and financial situation. If you're looking for a van, we have a full range of leasing options for all budgets.
How much does van leasing cost?
The cost of van leasing varies based on several factors, including the type of van, lease term and the mileage allowance. Typically, leasing costs are lower than monthly loan payments for a purchased van. Monthly lease payments are calculated based on the van's depreciation over the lease term and any additional fees or charges specified in the agreement. Before you make any decisions, it's important to get a quote. Get in touch today and our team can help get you started.
Who can lease a van?
Whether you're a small business owner, self employed, or a company with a fleet of vehicles, van leasing is an option. In the UK, the requirements for leasing a van can vary depending on the leasing company. However there are a few common conditions that you can keep in mind:
Age requirement: Most leasing companies have an age limit of 18 years old. However, some lease agreements may have a minimum age requirement of 21 or 25.
Driving licence: Not only will the driver need a valid UK driving licence, but it will also have to be valid for the specific van category you are looking at.
Proof of identity: Drivers are typically asked to provide proof of identity, such as a valid passport or national identity card, along with proof of address, such as a utility bill or bank statement.
Financial information: When leasing a van for a business, you may have to provide additional information, such as proof of business registration, VAT registration (if applicable), and business financial statements or bank statements.
Insurance: It is a legal requirement to have proper insurance coverage for the van you lease. You will need to arrange this for the duration of the lease term and provide proof of insurance before the vehicle is delivered.
What maintenance costs are included with van leasing?
One of the benefits of long-term van leasing is that it can include maintenance costs within the lease agreement. While each leasing company may have different terms, many agreements cover routine maintenance, such as oil changes, tire rotations, and general repairs. This helps you avoid unexpected expenses and simplifies your budgeting process.
Vans from First Step Vehicle Solutions
At First Step Vehicle Solutions, we offer a range of leasing options that can be tailored to specific needs, making our services accessible for all businesses. Regardless of your industry or business size, van leasing can provide the flexibility and convenience you require without the upfront costs associated with purchasing.
Want to buy a vehicle instead? Take a look at our full selection of used vans. They've gone through rigorous testing and are ready to take you and your business on the road. If you need some help, give our team of experts a call and they can talk you through your options.
Did you know we also offer 12 month van leasing?